SKIN reflections and coverage

Here are a few pictures and quotes from the group show we are in at the LA Municipal Art gallery. The show is called "SKIN," and is open until April 18th, as we previously announced. Our co-founder Ben Caldwell opened the door to our team when he was invited to contribute to the show. According to the exhibition statement, "SKIN brings thirty-six artists whose work is timely and engaged in many ways with these broader debates. The gallery acts as a discursive space where these disparate conversations can have a platform, and where further productive work and reflection on these topics can proceed."
For our part, Caldwell brought in Sankofa Red (our rebuilt payphone, pictured at right), and our design collaborative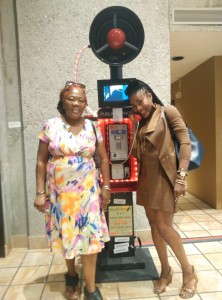 .  We created a new mission for the phone: gather "SKIN stories," responding to the question, "When did you first become aware of the color of your skin?" The payphone gives instructions, and then callers to our hotline are invited to record their story. To complete the circle, we will upload excerpts from the SKIN stories onto the payphone for ongoing exhibition when Sankofa Red returns to Leimert Park.
We are in great company, with artists including household names like Kara Walker, Los Angeles art scene veterans like Sandy Rodriguez and Nery Gabriel Lemus.
As for the show, here is some context from a review of the SKIN exhibition by Mat Gleason:
Under the curatorial direction of Barnsdall's director Isabelle Lutterodt, SKIN presents a myriad of stylistic and formal approaches to art by over thirty artists, all related in some manner to race.

Small and medium art institutions… remain vital to mount shows that take on the big issues of our time. The Los Angeles Municipal Art Gallery at Barnsdall Art Park is the perfect place for the type of socially-conscious curating that is as inclusive as it is demanding of high artistic quality from those that would be partisan.
As always, we innovated with print media too. The big challenge for a design like this is to tap into existing social norms. So we gave out the hotline number with "tear off" paper strips, as is common on at laundromats, at public payphones, etc. The separate hotline also provides more privacy for visitors to submit their stories, since SKIN narratives an easily be very personal and inappropriate for the public spaces of a gallery. Finally, we noticed that many of the best stories came after invitations in person from team members or friends, echoing some longstanding practices from oral history.
Here again is the flyer advertising for the show:
Some broader coverage of the SKIN exhibit: