A "People St Plaza" coming in Leimert Park
From the streets of Leimert Park, change is coming! Today the City of LA approved a project to transform a Leimert street segment, closing it to car traffic, and opening it up to pedestrians, art and games. That's right – the Transportation Committee approved 43rd Place between Leimert Boulevard and Degnan Boulevard to become one of the first People St Plazas in Los Angeles!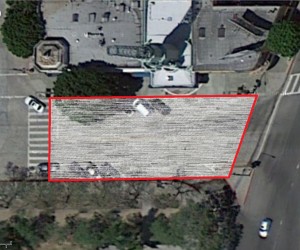 This is the culmination of a community collaboration led by members of the Leimert Park Village 2020 Vision Initiative, KAOS Network, the Institute for Maximum Human Potential, USC Annenberg's Innovation Lab, and the students from a "Tactical Media" class at USC's School of Cinematic Arts. Beginning in 2013 we conducted community meetings and visioning workshops, built prototypes that re-imagined payphones, park benches, advertising displays, newspaper boxes, and planters. In March of 2014 we closed the street for a weekend, installed a "Pop-up Plaza" and invited the community to play. People came, liked what they saw, signed petitions, and gave us more ideas.
This People St Plaza will be one of three to be installed this year by the City of Los Angeles Department of Transportation under its new People St program (the other two will be in Pacoima and North Hollywood). We are told things will move fast and the Plaza will be in place before the end of the year. Maybe in time for SouthLA's CicLAvia on December 7? That would be great.
(Listen to the Transportation Committee meeting discussion of the "People St" projects on 06/25/14 – this item starts at 00:03:30)
—–
What are People St Plazas? The vision according to the city is:
A People St Plaza creates accessible public open space by closing a portion of street to vehicular traffic. Paint or other treatments are applied to the street surface, while large planters and other elements define the Plaza perimeter. The Community Partner maintains and operates the Plaza, providing movable tables and chairs, public programs, and ongoing neighborhood outreach.

Providing expanded public spaces can increase safety for people who walk, bike, and take transit. It also encourages increased levels of walking and bicycling, while supporting economic vitality. New local gathering spaces can foster a greater sense of community and social cohesion. Plazas can also become centerpieces of neighborhoods, providing venues for events and celebrations. As more pedestrians come to spend time in neighborhoods, the increased activity may support the vibrancy of local businesses.