Team
You can find us on Twitter @LeimertPhoneCo and on Facebook here.
Our participatory design collaborative aims to re-invent the payphone (and other urban objects) as a portal to local culture, local history, and to build community.
We formed in 2013 to redesign a phonebooth in the historic African American neighborhood of Leimert Park. Based in Los Angeles with collaborators worldwide, we have 10+ core members, including hardware hackers, storytellers and game designers; we are a mix of Leimert Park community members and University faculty and students.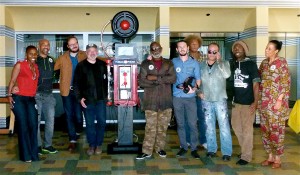 Direction and Facilitation
KAOS Network: Ben Caldwell (and from LA Rebellion)
University Partners: François Bar (USC Annenberg), Benjamin Stokes (American University), Karl Baumann (USC Cinematic Arts)
Fabrication Leads
Andrew Schrock
Wesley Groves
Rudy Rude
Team and Participants
Alex Leavitt
Charmaine Asril Lee
Chi Zhang
Chris Swiatek
Drew Roos
Dominique Ulloa
Eddie North-Hager
Emily Molina
Eleanor Wright
George Carstocea
Janet E. Dandridge
John Wall
Kara Andrade
Kevin Driscoll
Lana Swartz
Leila Dougan
Lena Uszkoreit
Marcia Allison
Marie Sullivan
Melissa Loudon
Meryl Alper
Minkah Smith
Nicholas Busalacchi
Nicolas Kendall-Bar
Patrice Fisher
Paul Cheatham
R. Taj Frazier
Rook Campbell
Sabelo Mhlambi
Samantha Close
Sasha Anawalt
Substance
Tim Huang
Uhura
Wo'se KOfi
Special Thanks
Dean Ernest J. Wilson, USC Annenberg School for Communication & Journalism
Jonathan Aronson, Director of the Annenberg Experimental School, the venue for our studio
Jeff Watson, guest game designer from USC Cinema
Brenda Shockley, guest adviser, Crenshaw BID manager; Community Build
Annenberg Innovation Lab
Metamorphosis Research Team, and the MetaConnects initiative
Mick M., who sold us the used payphones on eBay
Shane Reilly, of reillyworks.com, who taught us to weld
Rob, at Payphone411.com, a treasure trove of useful information