Sankofa Red (prototype)
This page is about Sankofa Red, our first physical prototype. The design pulls from our design pitches for the neighborhood phonebooth. It was first publicly shown at a soft launch in late November 2013 (see article on Streetsblog). As for the name, see our post on why Sankofa. The prototype involves the hardware of our PiPhone kit.
Watch our intro video on Sankofa Red (45 seconds/Vimeo) by Karl Baumann.
Below are a few pictures — more to come…

Glowing after a late-night session (Photo courtesy of Wesley Groves)
Design sketch from the construction (Photo courtesy of Rudy Rude)

In front of KAOS Networks (Photo courtesy of Francois Bar)

During Construction (Photo courtesy of Benjamin Stokes)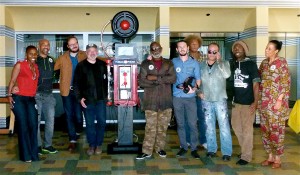 Soft Launch team portrait — most of us at least (Photo courtesy of Wesley Groves)
Soft launch pictures (Photos courtesy Sahra Sulaiman — see her article)